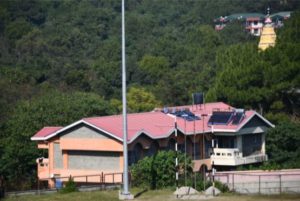 Hostel life is where friendships are forged and memories are made. The college has a separated hostel for girls and boys. The hostel rooms are comfortable, well furnished and impeccably maintained.
HISTORY
Government College Hamirpur provides hostel facilities for both boys and girls. The girl's hostel was constructed in 1975-76 having the capacity of 39 students. It was funded by HP Defence and National Security Relief Fund and was constructed ta the cost of Rs 4,27,680/- on the land belonging to government college Hamirpur. The building was inaugurated by Sh. Ram Lal Thakur then PWD minister. It was initially under Sainik Welfare Hamirpur (HP) and was named SainikChhatralaya. The transfer of the building of SainikChhatralaya to Government College Hamirpur was approved in 2016 and it was completely handed over to Government College Hamirpur on 13 Feb 2017.
New girl's and boy's hostel buildings were constructed in 2008 at the cost of Rs 1,93,21,603/- and Rs 1,80,65,432/- respectively. Both the buildings were constructed by HIMUDA (Himachal Pradesh Housing and Urban Development Authority).
The buildings were inaugurated on 23rd Oct 2008 by Hon. Chief Minister Prof. Prem Kumar Dhumal. Both the hostels have capacity of 90 students with preference to SC and ST students. There are 30 rooms in both hostels and each room is shared by 2-3 students. The hostel provides adequate facilities with a study room, common room, and bathrooms with geysers on each floor, filter for water, and table, chair, bed and almirah for each student and mess facilities. Currently there are 85 students residing in girl's hostel and 61 students residing in boy's hostel. With warden and hostel committee looking after the affairs of the students, the hostel is a home away from home for those who have chosen to stay here. The rules and regulations are strictly implemented for the hostel to be safe and productive space.
The entire hostel is provided with Wi-Fi connectivity.
Solar system is installed.
Wardens and housekeeping services are provided in all the blocks of the hostel.
Meals are served in a spacious and well ventilated dining hall. It is also utilized for activities and celebrations like Teachers Day and Christmas celebrations etc.
There is a mess providing hygienic, nutritious and delicious meals, with a lot of variety in the menu.
The students have an access to a TV room.
Water filters/ ROs are installed for clean and safe drinking water.
A hostel representative is nominated by the students and the Principal.
Activities like dancing, singing, games and celebration on festivals are organized.Space is maintained where students can play
HOSTEL COMMITTEE
| | | |
| --- | --- | --- |
| S.NO. | NAME | DEPARTMENT |
| 1 | Dr. PRAMOD PATIAL | PATRON CUM PRINCIPAL |
| 2 | PROF. NEELAM GULERIA | CHIEF WARDEN |
| 3 | Dr. HEM SUMAN JAMWAL | BOYS HOSTEL WARDEN |
| 4 | PROF. NEELAM GULERIA | GIRLS HOSTEL WARDEN |
ADVISORY COMMITTEE
| | | |
| --- | --- | --- |
| S.NO. | BOYS HOSTEL | GIRLS HOSTEL |
| 1 | Mr. Prakash Thakur | Ms. Neelam Kumari |
| 2 | Dr. Uttam Kumar | Ms. Sunita Saini |
| 3 | Mr. Harkanwal Swarup Sharma | Dr.Sangeet Singh |
| 4 | Dr. Dinesh Sharma | Dr. N.D.Khanna |
| 5 | Mr. Rajindra Singh | Dr. Pawana Kumari |
|      6 | Dr. Hem Suman Jamwal | Ms.Neeraj Sharma |